Back To Menu
$39 Kitty's Family Style
Any Salad, Med Pizza, A Platter of Spaghetti, Penne or Fettuccini Alfredo, Garlic Bread, Pitcher Domestic Beer Or Bottle House Wine Or 2 Pitchers Soda,
Dinner For Four
$39
Craft Brew Pitcher
+$4
House Wine to Fine Btl,Wine
+$8
Have you tried this item? Pop it!
Help other diners know what to expect by sharing your experience.
5 people have popped this item
Photo Gallery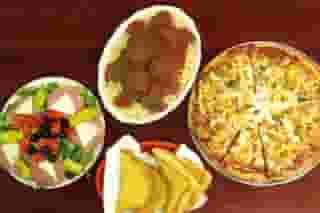 Back To Menu
$39 Kitty's Family Style
Any Salad, Med Pizza, A Platter of Spaghetti, Penne or Fettuccini Alfredo, Garlic Bread, Pitcher Domestic Beer Or Bottle House Wine Or 2 Pitchers Soda,
Dinner For Four
$39
Craft Brew Pitcher
+$4
House Wine to Fine Btl,Wine
+$8
  Back To Menu