Brewer for September
Sign Up
By submitting, you agree to our Terms and Privacy Policy
Dine Delivery Take-Out
Appetizers
Dine Weekdays 3-6 pm Happy Hour 
$7 Appetizers $6 Craft Brew Pints & $7 Fine Glasses Wines
Our Famous Pizza
16" 3-4 people - 12" For 2 People - 8" for 1 
Extra Toppings or Pesto Alfredo Sauce
16" 2.00| 12" 1.25 | 8" 0.75
Premium Topping or Go Vegan Mozz 
16" 3.25 | 12" 2.25 | 8" 1.40
Dinners
Dine In, Entrees Include A Dinner Salad Or For An Additional $1, Get The Soup Of The Day. Italian Dinner Entrees Also Include A Garlic Roll
Pasta Dishes
*Ask About Our Weekday Specialty Pasta"
Family Meal FreeUpDeal Online Promo Code
Family Meal FreeUpDeal Weekdays until 6:00pm. Get Craft Brew Pitcher or Any Fine BtL Wine Only $5 More
Kitty's Family Meal Gets $5 FreeUpDeal Daily Until 6pm.
$42
Medium Pizza, Any Salad, Platter of of Spaghetti, Penne, 2 Pitchers of Soda or Bottle House Wine or Pitcher Domestic Beer, for $5 Upsize Pizza to a Large Get $5 Family Meal FreeUpDeal Weekdays Until 6pm.
Craft Brew Pitcher
+$4
House Wine to Fine Btl,Wine
+$9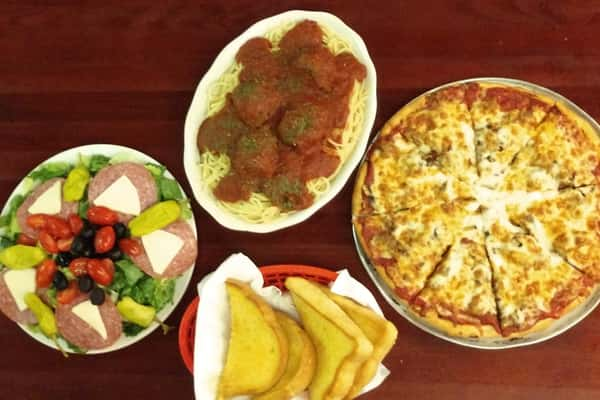 Dishes Served Family Half Catering Trays
8-12 Portions In 2.5" Deep Party Pans